Financial Literacy & High Schoolers
Author: Hannah Henry
Work Readiness
Published: Thursday, 14 Jun 2018
---
Sharing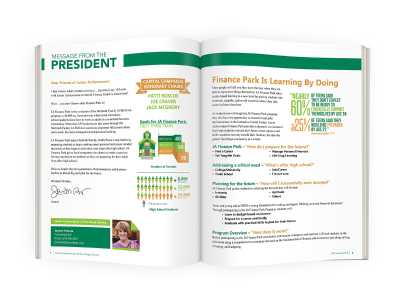 Image caption: Finance Park Brochure
What is financial literacy?
Research conducted by the Program for International Student Assessment (PISA) found that one in five (22%) teenagers from the U.S. lack fundamental financial literacy skills. Basic skills that are included in financial literacy include the ability to budget, how to save, understanding the impact of credit and debt, investing to reach financial goals, and utilizing outlets like insurance companies in order to minimize future financial drains.
Why is financial literacy important for high schoolers?
While most high schoolers are not looking to invest their money for retirement, most high school students have or are experiencing part-time work, income and expenses, as well as setting future goals. At this stage in a teen's life, it is crucial that they are looking towards financial goals they want to reach from higher education to a reliable car. With college around the corner, saving early will be a necessary step as well as understanding the process of taking out a loan. Students will also be expected to manage their money for the first time living on their own. As all of the responsibilities add up, it is crucial that high schoolers know how to manage their personal finances.
Teaching financial literacy to high schoolers
Teens know the financial responsibilities that lie ahead of them and they are eager to learn how they can manage all of them while attempting to do their own laundry. In fact, a study conducted on behalf of Junior Achievement and Ernst & Young LLP (EY) found 81% of teens would take a work/financial readiness class if it was offered to them. Which begs the question, how can you spark discussions with your students or child about preparing for their future.
Money Tools for...
Parents and Teens at Home
Break out your family Monopoly board to help your teen get hands-on with saving, spending and investing concepts or Game of Life to let them test-drive a career and make their own financial decisions!
Utilize the one thing that they ALWAYS have on them--their phone! Encourage your child to review their bank statements, explore options to start building their credit and seek out information about college loans.
Teachers and High Schoolers in the Classroom